This is a quick guide on how to install Mac OS 10.5.2 to Dell 700m laptop.
You will need:
1. Dell 700m
2. Kalyway 0SX86 10.5.2 DVD
To start off, the spec of the 700m is listed here:
Intel Pentium M 1.7GHz
2GB Memory
BIOS Phoenix Technologies A07 3/20/2006
Intel 828xx Controller
Intel 82852/82855 GM/GME Graphics Controller
Intel PRO/Wireless 2915ABG Network Connection
NEC DVD+-RW ND-6650A
Synaptics PS/2 Port Pointing Device
Texas Instruments PCI Cardbus/IEEE 1394 Controller
Texas Instruments PCIxx20 Integrated FlashMedia Controller
Broadcom 440x 10/100 Integrated Controller
SigmaTel C-Major STAC9702 Audio
Conexant D480 MDC V.92 Modem
Here is the steps:
1. Boot from Kalyway 10.5.2 DVD
2. Click through the language and read-me screen
3. Select Disk Utility from top Utilities menu bar
4. Click you disk drive and erase with MacOS Extended file system
5. Exit from Disk Utility
6. Click Customize
7. Select the following options
You may want to try the iwi2000beta driver here for the wifi. Or you can install it later.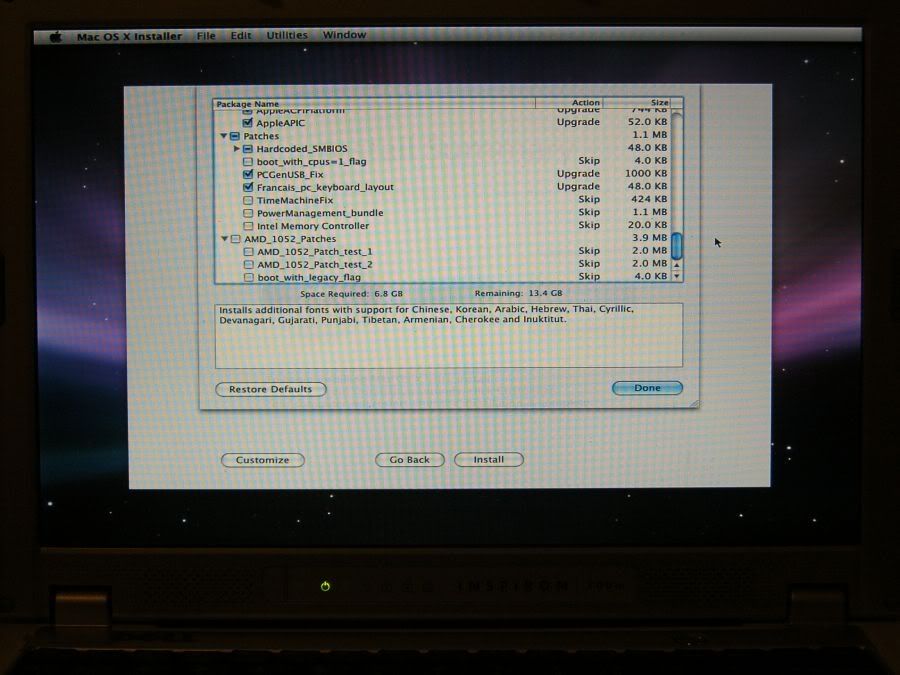 7. Click Done and Install.
8. When the installation complete, it will reboots. Now boot it from the harddisk.
9. If you walk away during installation, it may reboot to DVD. In that case, just power down the computer, and then reboot to harddisk.
10. Your brand new OSX welcome screen will be displayed.